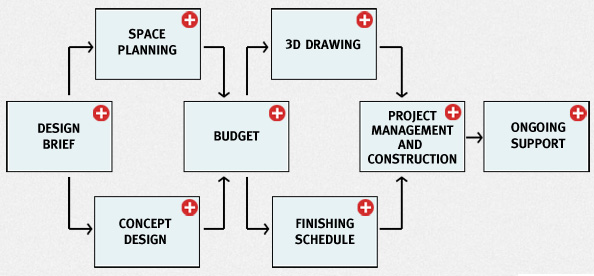 Project Management
Project Management & Construction
Where it all comes together
We take full control of this critical stage by overseeing the smooth running of your project on a day-to-day basis.
Work schedules are created for the trades to ensure your projected is completed on time.
Site meetings are conducted with the client, design team and trades as the work proceeds.
Colleen Broadhurst Interiors ensures that your project is completed on time, within budget and to the highest standard.
Should you decide to undertake your own project management or appoint your own trades, we will be happy to produce a tender support package for you.
On Going
We are proud to offer such a high level of on-going support
Our team of experts will continue to be on hand after the completion of your project.
We consider this to be an important part of the whole process, providing invaluable peace of mind for our clients.
Finishing Schedule
Expert guidance in the finishing touches
It's the development of ideas that bring style and personality to your home.
With the guidance of our Home Decor Specialist, we source the best possible products and finishes that suit your home, your personal taste and your budget.
We guide you in selecting the design details for your project. This includes furniture, fixtures, fabrics, carpets, draperies, lighting, millwork and accessories.
We'll provide samples and source sheets for all furnishings, fixtures and finishes being used in your home.