BULKHEAD BLUNDER
Q I live in a condo with strange bulkheads everywhere. In my bedroom, one of the bulkheads is so large it covers almost 50 percent of the ceiling. It makes the room feel very oppressive. What should I do to disguise this? Would it help to paint the walls and ceilings the same colour? D. Cheung, East York, Ont.
A
The bulkhead is obviously something structural—perhaps housing ductwork for your condo—and cannot be removed. Painting the ceiling the same colour as the walls will help, but make sure you paint it a lighter colour. Because it's a bedroom, you may want to consider a wall covering. For the ceiling, I would choose a paper with a larger random pattern such as a floral and, for the walls, a complimentary paper with a more structured pattern suc
h as a combination stripe and floral.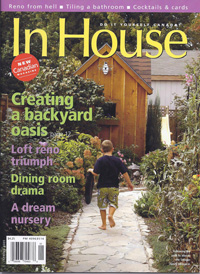 MIRROR, MIRROR ON THE BACKSPLASH
Q I like the sophisticated look of mirrors as a kitchen backsplash. Any advice on how to install them? By the way, my wife is against the idea and thinks they'll be impossible to keep clean. Must practicality supersede style? Pierre Sirois, Laval, Que.
A You don't have to give up style for practicality. Use a high-quality mirror so the backing doesn't come off over time and as with any kitchen backsplash, wipe it down after use.
This treatment looks best when the mirror is installed in one continuous piece. Depending on the length of your walls, there may have to be one strategically placed join. And don't use mirrored tiles! There will be too many joins, which leaves the tiles susceptible to water penerating behind the mirror and eventually removes the backing.
Sometimes, though, you have to know when to call in the professionals. A mirrored backsplash may be one of those times. Don't forget to have mirrored switch plates made for your duplex outlets and switches as well.